Pecha Kucha Night Vol 9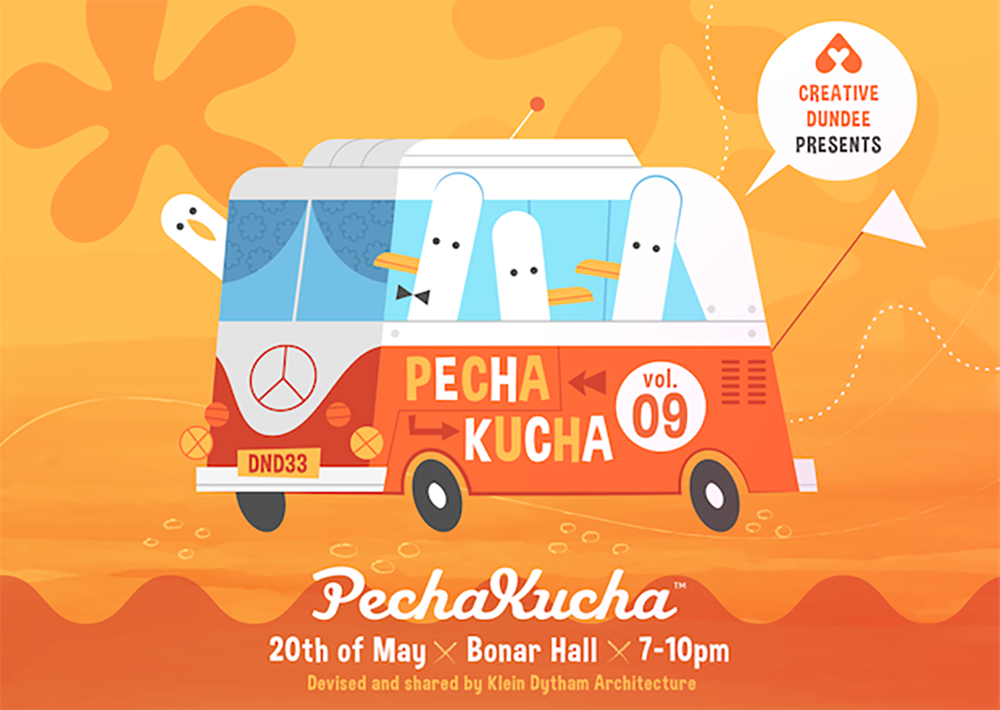 Pecha Kucha Night Dundee Volume 9 took place on Tuesday 20th May 2014.
Pecha Kucha Night Dundee is an opportunity for anyone to come along and hear about what's happening locally, from around 12 totally diverse individuals who speak about whatever they fancy! You, plus hundreds of other people get to sit back, listen, laugh and enjoy… PKN is part of a massive global network, which you can find out more about here: Pecha Kucha Nights.
At PKN we also have the regular 'spread the word' feature, giving anyone the chance to grab the mic and shout out the events and opportunities that you have got coming up…
A huge thanks to illustrator Ruud Hendriks of Momo & Sprits for this great sunny Pecha Kucha illustration!
Please have a look at all previous PKNs and watch videos of the presentations here.
Presenters included…
What the devil is a Pecha Kucha Night anyway? Pecha Kucha Nights* were originally started back in 2003 in Tokyo, as an event for creatives to meet, network, and talk about their work in public. Since then Pecha Kucha, meaning 'chit chat' in Japanese, has spread internationally running in over 700 cities across the world. The much loved and respected format is relaxed, simple and enjoyable, with something for everyone – presenters have 6 minutes 40 seconds to show and talk through their 20 images, each for just 20 seconds – this keeps things fast and fun!
* Pecha Kucha was devised and shared by Klein Dytham architecture. The PKN Dundee event is organised and hosted by Creative Dundee.